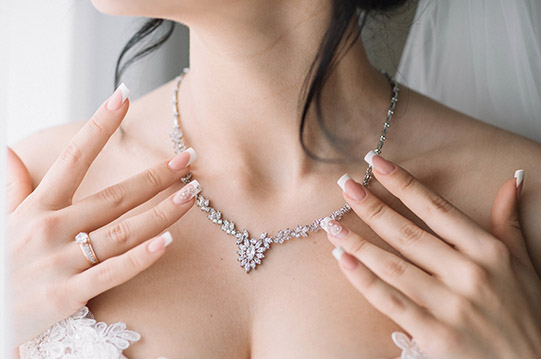 Take a look at your jewelry collection. Is there a necklace (or two) that you hardly ever wear?
Why?
Perhaps you just don't like this item of jewelry anymore. Maybe it was "trendy" a few years ago but now it's completely out of fashion. Or perhaps it's one of those awkward gifts you've only kept out of politeness.
However, it's more likely to be:
Because it doesn't fit in with your wardrobe style, or
It doesn't suit you personally
So how do you avoid adding to these necklaces that are simply collecting dust? By finding the right necklace length, of course!
Necklace Length and How It Fits
Firstly, let's take a look at the different lengths of necklaces you can purchase and how they fit around your neck. This will help you visualize how the necklace will look when you wear it, allowing you to determine whether or not it will suit your build and/or style.
For women, there are the following sizes:
14-inch necklaces – These tend to fit quite tightly around your neck, creating a collar. They suit clothing that exposes your neck, such as v-neck tops, scoop necks, and off-the-shoulder styles.
16-inch necklaces – Fitting a little looser around your neck, these necklaces will finish at the base of your throat, creating a choker-style necklace. That's why they're great with almost every item of clothing.
18-inch necklaces – Hanging on your collarbone, these princess necklaces are another versatile piece, suiting the majority of getups.
20- to 24-inch necklaces – Resting between your bust and collarbone, these necklaces are described as matinee-style designs. Due to their look, you can team this type of necklace with casual outfits and more formal, business attire.
28- to 36-inch necklaces – Ideal for evening wear or outfits with high necks, these opera-style necklaces will finish on your bust, or just below.
36- to 42-inch necklaces – You'll often wrap these rope-style necklaces around your neck to achieve a finish that nestles on, or just below, the middle of your bust. Ideal for evening wear and business dress.
For men, there tend to be fewer options, including:
18-inch necklaces – These hang at the base of a smaller man's neck.
20-inch necklaces – As the most common size for men, this necklace will finish on your collarbone.
22-inch necklaces – Resting just below the collarbone, this necklace length is ideal for adding medallions or feature pendants to.
24-inch necklaces – These finish just above the breastbone.
Finalizing Your Ideal Necklace Length
Now you know how the different necklace lengths work, let's figure out which length is right for you. One of the easiest ways to do this is to measure the necklace length you currently wear, doubling this to get the overall chain length you require.
However, if you're not happy with your current necklaces or you want to try a different length, measure out different necklace lengths with a piece of string to see how they'd fit. It's important to remember that the way a necklace fits on one person might not be how it fits on another, so you need to try each length yourself to determine the ideal length.
Other Factors
Finally, don't forget to take your face shape into account. Oval faces tend to suit all necklace styles, while elongated necklaces flatter rounder faces as they have a slimming effect. Avoid chokers if you have a rounder face, but do choose this style if you have a heart- or rectangular-shaped face, as this will soften your features.
By considering all of these factors, along with your outfit choice, you'll be able to find the ideal necklace length for you.
Find a pendant you love with the necklace length you need by checking out the stunning range available at Fanning Jewelry. With a variety of necklace lengths and exquisite hand-crafted pendants on offer, you're sure to find what you're looking for.