The Beauty of Sterling Silver Jewelry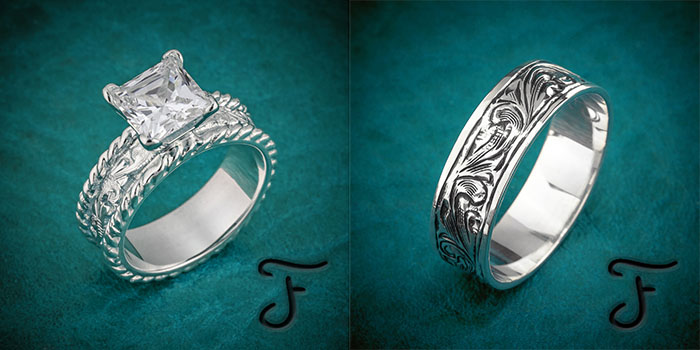 Boasting a beautiful, cool color, and stylish sheen – it's not hard to see why sterling silver jewelry is timeless and sophisticated. From necklaces to rings, this unique metal offers a number of advantages that makes it an all-time favorite for classic and on-trend jewelry pieces.
Below, we discuss what benefits there are to buying sterling silver jewelry and why any piece will stand the test of time.
Sterling Silver Is Hypoallergenic
Up to 10% of people are allergic to nickel. This figure rises to 20% in young women as they're more likely to come into contact with jewelry that contains nickel. These allergies can result in itchy, irritated skin and unsightly scabs, which is why you'll probably want to avoid nickel altogether, even if you've never suffered an allergic reaction from jewelry before.
As sterling silver is made from 92.5% pure silver, it's a fantastic hypoallergenic jewelry option and is far less likely to cause contact dermatitis. Always check to make sure the jewelry is labeled as "925" or "sterling" to make sure it isn't just plated in silver.
It's Incredibly Durable
If you take care of your jewelry correctly, sterling silver can last you a lifetime, providing you with timeless pieces that you always treasure, and perhaps pass on to future generations as an heirloom!
Knowing how to look after sterling silver means your pieces can look exactly the same forty years later. That's why it's worth paying a little extra for true 925 sterling silver jewelry , because the quality and longevity of your piece far outweigh the cost. And looking after this type of jewelry isn't hard either, as its original shine can be restored with a specialist varnish and clean cloth.
It Allows Jewelers to Be Creative and Keep Up with the Trends
Keeping up with jewelry trends can be exhausting, as new pieces come into fashion every single day. But thanks to its timeless elegance and popularity, sterling silver is always in fashion. Even if trends change, you'll always find sterling silver included in the latest, most fashionable jewelry styles.
Furthermore, because silver's quite a soft metal, it gives jewelers fantastic scope when it comes to designing jewelry. They can constantly experiment with styles to create wonderful new pieces that stand out from the crowd. So whether you're looking for a necklace, ring, or other item of jewelry, you're sure to find something that's in keeping with your own unique, personal style.
You Can Create an Outstanding Jewelry Collection
Due to the amount of options available for sterling silver, it allows you to build up your own jewelry collection (or upgrade it) in no time at all. For example, you might want to invest in a new statement piece, or add to another item of jewelry you already have. Because sterling silver complements the vast majority of metals, there's no need to worry about your different pieces clashing.
Equally, if you want to add high-end jewelry to your collection, sterling silver is a must. Many designers will tell you that their most innovative creations have been crafted from this metal. That's why you're sure to find a piece that has the wow factor you're looking for, while also retaining its value over the years to come.
Sterling silver is an incredibly versatile metal for jewelry. Not only does it offer you a hard-wearing piece that can stand the test of time, but it's also a stylistic all-rounder, so you can add it to your existing pieces to create a look that still feels put together. Whatever the occasion, whatever your style, sterling silver is a beautiful choice.
Here at Fanning Jewelry, we have an eclectic range of sterling silver pieces , from standout engagement rings to unique western necklaces. Our designers work tirelessly to create new pieces that don't just add to your personality but create timeless items of jewelry that you'll cherish forever.